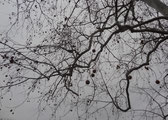 A tutor of mine at Chichester University, where I was studying for a mid-life M.A. in Creative Writing, used to bang on about time: how even the past has a past and we need to feel that depth; how memory isn't linear in our inner world; how places themselves have different qualities of time, different relationships with time. She encouraged us to think of settings where time has special meaning, such as museums, a library perhaps.
We had studied Helen Dunmore's The Greatcoat, a short novel set on an abandoned World War II air force base, a place that had a now and a very definite then. I'm often slow on the uptake but eventually my tutor's earnestness began to rub off even on me, and the penny dropped that I had already made a point of going to just such places – for years, in fact. I have held an interest in the American Civil War since my mid-twenties, and began making trips to battlefields when in America on business. Eventually I started to make Civil War trips for their own sake, and when I started to write seriously, it made sense to follow my interest.
Civil war battlefields are various. They can be little more than a grown over old trench with a raised front that you have to track down off to the side of some Virginia backroad. Or they can be glorious outdoor museums with square miles of monuments and statues, with names that resonate from the past like Gettysburg, Sharpsburg or Shiloh. What all these places have is the same duality as Helen Dunmore's airfield: they have a now and a then. They are liminal, a place of transition or threshold. The time between then and now is foreshortened. I can almost touch the past; I can try to understand. These are hallowed places to most Americans, markers of an ordeal in their past that echoes all the way to today.
I didn't realise it for a long time, but in my short stories I've been looking to trace the echoes, trying to see how they might have played out over time: just after the war, when the veterans started to die out; in the civil rights era; today.
As a new writer you spend a lot of time doubting what you are producing and if it's of any relevance. The self-doubt can be useful in a way. It leaves you in a cocoon where you are able to write freely because, hey, no one's going to read it anyway. Such was the case when I wandered alone around a Kentucky battlefield and town and wondered if the place had even now, a hundred and fifty years on, ever gotten over that single butchering day. I played with time, imagined a town that had post-traumatic stress, that couldn't move on from the past, but had to keep trying to honour and understand its trauma. I just let the story come out and sent it away, no more hopeful than normal.  When it won the 2015 Exeter Story Prize it was a great breakthrough for me, and I had to take a step back from the story, and look at it again, as if it were a painting that I'd never paid enough attention to. And it was all in there, what my tutor had taught me, now and then collapsed into a single story. I love to find those connections, real or imagined, they can connect us to many possible pasts.