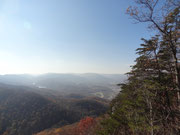 It's only through writing (quite a lot of it) that it's been possible for me to find out what sort of writer I am. I guess that makes sense. If you equate it to painting, you would be forced early on to decide if you wanted to paint landscapes or people; if you preferred to work in rich detail or dwell more in the abstract. But there comes a point where you have to take a step back and consider what you've produced.
Sometimes a little outside help is useful. In the last couple of weeks I've been working with Lucy Llewellyn at the publishing services company Head and Heart as well as marketing mentor Yen Ooi at CreateThinkDo. Their help, along with the imminent need to determine how my first book will look and how I might present myself to the world, has forced me to look again at both what I write and why. 
I began to writing about five years ago, taking evening classes as a creative outlet from a rather dry IT career.  I explored stories set in the American Civil War simply because that was a period I knew the most about.  I was naïve enough to believe it was as simple relating what happened; no particular ingredient needed from me other than description, a dab of imagination and passable grammar. 
When I began to share my stories, my second daughter, Becky, who was studying philosophy at the time, pointed out that most of my stories involved some sort of existential crisis. I was surprised but, sure enough, many of them were about middle-aged or older men exhibiting some angst about the value of their lives and searching for some redemption. As I was merely approaching fifty, I comforted myself that the term middle-aged didn't yet apply to me . . . It was a useful intervention, helping me to see that I was placing something of myself into my characters. I quickly wrote a story in first person as a twenty-something woman from Kentucky to try and break the mould. 
A couple of years later on, here I am wondering what sort of cover image would best reflect my writing and considering how to go out into the world with a book to sell. The first part was easier. When Lucy asked me to pick out the sort of covers I liked, they were pretty much all landscapes. I've always loved writing that has a strong sense of place. This was perhaps just relearning something I'd forgotten. The work with Yen was more surprising. The CreateThinkDo method focused on me rather than my writing. It felt more like a counselling session, extracting my values and attitudes, good and bad. Even as we were going through the exercise I was relating it to my most recent stories and was amazed at what I could see. The existential stuff is still hanging around, but I also saw more clearly other values reflected in my writing. Many of my characters are amiable; they make use of humour and have a tendency towards responsibility (not always what you want in a character). Above all I could see that they either possessed or were searching for a certain generosity of spirit.
This last realization was especially powerful. I could guess at some of its sources. Two of my favourite writers are Garrison Keillor and Tim Gautreaux, both writers that dig for that spirit in their respective community landscapes of Minnesota and Louisiana. I could also see in it a reaction to the way the world is tending: a need find a bedrock of charity and selflessness. I have certainly met some exceptionally generous people through writing. I'd like to think that they know who they are, but they probably don't. Perhaps I was just reflecting on them. Wherever this need comes from, it's probably not a million miles from that old existential crisis, measuring myself against the worth of others, real or fictional.
Head and Heart  http://www.headandheartpublishingservices.com
CreateThinkDo http://createthinkdo.com/