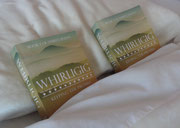 I've been learning to co-habit with my novel, Whirligig. We've moved in together. There are two copies now, a third having moved out after a brief stay. It's weird. I'll wander into the lounge and there they'll be, lounging. Or they might have found their separate ways to the study or the kitchen.
I have trouble telling the twins apart; the first copy and the follow up proof. Why does that matter? There's a small box of them coming tomorrow. How will I tell them apart then? Maybe I should start naming them…
It might seem an obsession but think for a moment of the transformation that has just happened. For four of five years I have lived with this story in my imagination and laboured to convert it to bits and bytes, sent parts of it out into email-land for others to see how it's coming on, taken it back, reshaped it.
Occasional chapters have churned out through my printer and whole sections made it into submissions and my dissertation. But in the last few weeks there has been a late rush of creation as it's taken on first a virtual and then a physical skin. It was birthed somewhere in South Carolina to a stranger's eyes and only then came to me.
I'm very proud of it. I'm in the habit of moving a copy to the side table by the door so visitors might notice it. I produce it at every opportunity.
'Hey, Richard. What have you been up to lately?'
'My first novel just arrived. Would you like to see it?'
'Can you sign for this package please?'
'Of course. Actually I need the practice. Do you like historical fiction?'
'Nice weather we're having.'
'Sure is. Especially for books.'
One or other of the twins has already been with me to the pub, on a school visit, to a rugby game. I need to get a grip; it's still over two weeks to launch date. I'm going away with some mates for a golf holiday. They are decidedly not booklovers, but guess what'll be in my hand luggage? I may accidentally slip a metal bookmark between the pages just so it goes off during airport security. 'It's alright everyone,' I'll say, holding my book aloft. 'Everything's OK. It's just my novel.'
I guess I'll get used to it, this thing that was inside my head but now has physical form. Sooner or later, I may actually put it on the shelf.