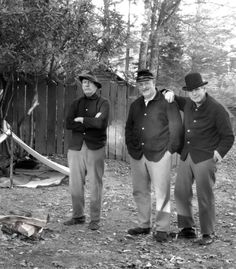 I'm sleeping between two Springfield rifles. Each would be as long as I am were the bayonets fixed, but that's not a good idea in a civil war dog tent, so called because when the soldiers first saw them they said they were only big enough for a dog. There's two of us in here. 
We're above 3,000ft on Droop Mountain. There was a battle here in November 1863, a small one by Civil War standards, that cleared the last Confederates out of the newly born state of West Virginia. In point of fact, the Southern soldiers who died are thirty paces away in a burial-pit surrounded by a split-rail fence. We're in the Union camp. There's a dozen or so other re-enactor tents spread about an autumn glade, all but our neighbour Alan's are bigger than ours. He's in a 'pup' tent. 'Go figure,' as they say around here. The larger Confederate camp is a mile away.
My 'pard', Jeff, is the other side of a Springfield. He's zoozing away, living up to his claim to be able to sleep anywhere at the drop of a hat. I'm not doing so well. Jeff is my host for the week and we've driven the five hours from his home in Ohio. With typical American generosity, he's prepared all the gear and food we need, drilled me in the Manual of Arms and let me share his dog tent.
Here's the thing: I usually sleep in the buff, but that's not going to wash here. It's just above freezing outside. What's more, outside comes inside as there's no tent-flap where our feet rest. My clothes and layers are a mix of authenticity and modern-day practicality. The more authentic I can be the more believable detail I can harvest for my writing, but we've made some concessions. My wool socks would look reasonably authentic but for the 'Cat' logo. My pants (trousers to an Englishman) are woollen and civil war fashion: light blue and with braces that are presently off the shoulder or else the buttons would pop when I manoeuvre inside the tent, so Jeff tells me. I prove him right the next day. I have on a slipover thick cotton shirt that buttons at the neck. I think it looks kind of fetching in a Heathcliff sort of way. Underneath, in view of a likely frost, I have a modern-day collarless t-shirt. I'm wearing a woollen hat that reads 'Old Men Rule' which I was given for my 50th birthday. It's dark outside but I'm wearing glasses; I don't want to lose them or roll onto them in the night. I'm under a sleeping bag and then a wool-blanket that looks in period. One of the Minuzo thermal golf mittens I smuggled in has been pressed into service as a buffer between my right hip and West Virginia.
I'm warm but uncomfortable. The couple of hours sleep I'll get tonight are already behind me but I'm content enough listening to the rain in the trees outside and thinking about my experience thus far. Like my sleeping arrangements, some of what I've learned is relevant to the past, some to the present.
For one thing the soldiers camped here a hundred and fifty-five years ago didn't have a Portajohn. Neither was there a warm ranger hut a minute away with donuts and coffee for breakfast. Jeff has showed me how to make coffee the old-fashioned way. I ground the beans in a skillet last night with the flat stump of a sawn log. We set them to stew in a pot overnight (a bit like overnight oats) and will boil it by the fire in the morning. I've also learned how to wear my 'traps' for when we march and fight. The cartridge-box is strapped over the left shoulder and the box tucked behind you. The thick leather belt goes over the cartridge-box strap and the attached cap box slides just to the right of the buckle to be out of the way when I'm carrying my rifle. The bayonet in its sheath hangs on the left hip. A haversack, containing my provisions, goes across the right shoulder and, lastly, a full canteen over the same shoulder but with the strap tied so it sits a little higher. All of this will matter when I'm trying to load a cartridge and place a cap when fighting my way over fallen trees in the forest tomorrow. I'll need to be able to open the boxes one handed and not have the traps get in the way.
Just now I'm fighting my way out of the tent to go pee. I need to get my leather boots on because it's wet out in the dark but it's tough from a sitting position while trying not to wake Jeff. My calf muscle cramps and I struggle upright with my boot half on. I've also learned that three middle-aged guys can keep a shared fire going all night even in the rain. For young guys it might go out, but as we three get up regularly for calls of nature we can tend to it. So our fire is burning bright. I walk a little away from the tents to find a pee-tree (the Portajohn is too far and unlit anyway). I try not to look left to the burial pit or right to the embalmers tent. Ralph the embalmer is already set up for the visitors who will watch us re-enact tomorrow. That means he has his plastic cadaver laid out on his table.
I pee quickly, throw a log on the fire and climb back in between the Springfields. We're going to fight in the morning. I'm not expecting to sleep. I am expecting donuts.
* Photo courtesy of Jeannie Herod