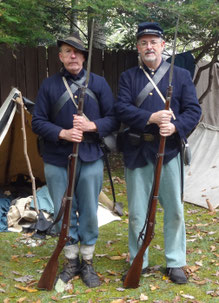 'Tell me when you're loaded,' says Jeff.
 He's training me on the job. Our Captain has us in skirmish formation, five yards apart in the woods up on Droop Mountain. To be honest, I wasn't really expecting us to get off the track. It's rough ground to advance over; I've never scrambled across fallen trees in full civil war kit while carrying a heavy Springfield musket. Life hasn't prepared me for this. Why would it? I'm yet to fire my first shot.
I find some cover behind a thick upright tree, reach behind me for a powder cartridge and bite it open. Placing the rifle butt on the ground, I tilt the barrel slightly away from me then tip the black powder inside. There's no ball to ram home, we're only pretending here. I fumble inside my cap-box, next to my belt-buckle, and retrieve a pea sized percussion-cap. Lifting the gun, I press the cap onto the nipple where the hammer will hit. It's a fiddly, close quarter work and I wish I had my reading glasses. I pull the hammer to full cock. 'Loaded,' I say. This means Jeff is free to fire if he sees a Rebel out there, but instead he says he'll cover me while I move to the next tree. The Captain wants us to push them a little. This is a battle we are supposed to win after all.
The Rebels aren't so easy to spot; light brown uniforms work better in an autumn forest than Union blue. Plus, it seems to me, they are younger. Jeff and I are the wiser side of fifty (Jeff is even wiser than I am) but the Rebels are flitting between distant trees like teenagers. Jeff fires and twenty seconds later calls, 'Loaded.' I spot a Rebel moving to the left and fire. There's a satisfying crack and puff of white smoke.
We were delayed in starting this 'tactical' re-enactment when a young black bear crossed in front of us. We weren't sure if mommy bear was somewhere on hand. I'm trying to take it all in, but get caught up in the boyish fun of it all. I wait for the Rebels to fire before picking another tree; you tend to move to the thicker ones. I imagine they did back in 1863 as well. They had more at stake.
It's rare to fight on the historic site itself; re-enactments are usually held somewhere close by but away from the hallowed ground. Before this battle in the woods kicked off, our Captain marched us to two Union memorials to fallen soldiers and we paid our respects, our Sergeant pointedly asking the Confederates camped near the spot to remove the barbeque fork that was leaning against one of the engraved stones. 'He was a hero, after all,' he said.
Back in the fight we've worked out there are only three or four Rebels up the hill and we outnumber them so the captain has us push on. In fact, he's leading the way. Unencumbered by a heavy rifle (and possibly the extra 20lbs that means my leather belt is stretched to the last hole) he's tearing ahead up the hill, pistol out. Oddly, given I only met the man two hours ago, I feel a strong need to keep up and protect him. It wouldn't do to lose an officer. A Rebel and I have a tree-off. I know which tree he's behind and he knows I know. Once he fires, I move forward and to the right. He can't run for it as Jeff will bag him. Two shots and two trees later, outflanked, he surrenders to me. He's actually about my age, just a good deal fitter.
After the tactical, we have a more scripted battle in open ground with around a hundred spectators watching on. The rebels have a few cannon firing at us. We don't have any but we're going to win anyway. Jeff's drill practice with me back in Ohio pays off and I can move at command with the squad. We advance shoulder to shoulder, firing by rank and then by company. Bigger bangs, more smoke. Jeff goes down theatrically but I decide I'm invincible, this is too much fun to end it early. The Rebels make a final charge but most go down knowing the battle is almost over. One Rebel, a young woman dressed as a soldier, keeps coming. She realises none of us are loaded so politely charges from side to side until we're ready and then we shoot her. She's laughing as we step past her and up the hill.
Making notes a few days later I find it easy to log the detail but hard to get at the emotion. Mostly I just felt twelve years old again, my only fear that I might run out of powder. When I come back to England I stay in London for the day and meet my wife Sally at the O2 for an ELO concert. It's last year's Christmas present and wonderful. Towards the end they play 'Wild West Hero'. It's a favourite of mine. I used to sing it loudly with my daughters on road trips. I'm singing it in the O2 with 20,000 other people, but discover an emotional echo in the song that takes me back to Droop Mountain. The lyrics are about the simple yearning to be a hero, the person that everyone looks up to, the one who makes the difference. It makes me wonder at the motivation of re-enactors and more particularly at my own, not just at Droop Mountain but as a writer of civil war fiction. Is that all just wish fulfilment? Am I playing out a hero fantasy vicariously through my English hero, Shire? Disturbingly, whether wishing to be Clint Eastwood or Shire, both roles seem to require shooting people.
Maybe it is part fantasy. It's not always as simple as one motivation. There are the same chuckles and manly bonhomie on a re-enactment weekend as there is on a rugby trip to Paris, or on the local golf-course with my mates. And latterly, I learn, re-enacting is more for the family. The Captain had his wife and daughters camped with him, all in period dress, all enjoying the square dancing. I met people I would find it hard to meet any other way, kind and generous people, curious about a middle-aged Englishman fighting for the Union. I've not really bottomed this out, but maybe we don't have to question our motivation for every last thing we do as we're apt to do these days. I guess there's nothing wrong with being twelve years old once in a while.