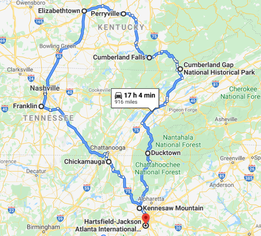 It's an odd experience, launching a novel. Maybe more so in a time where you can't collect like-minded people in a church hall and spend an hour or two putting your new book, and yourself, in the glow of a small spotlight - real or imagined. Most of our crowds have become virtual. How strange it would be to try and make my nineteenth century characters understand that in today's world we can gather and yet not be together.
This last week has been frenetic. You would not believe how complex we've managed to make the business of selling a book. Buying one remains relatively easy from the readers end - and thanks to all who have bought a Copper Road - but to get it there, long after you've finished writing, is a project in itself. Covers and blurbs, formats and platforms, promotions and advertising; each with their own challenges.
More soothing has been delivering hard copies to local friends over a socially distanced cup of tea and maybe a cake. The best thing I did on launch day, late on Sunday afternoon, was back in the virtual world. I Zoomed together a dozen of my writing friends from Chichester Uni. It forced me out of the complexities of a book launch. These were people who wanted to talk about writing, not about my middle-aged struggle with Facebook ads. The beer helped and I found myself talking about the book itself and the challenges I'd faced there. By the time the meeting was over, I was far more mellow and spent the evening reflecting on the real experience of writing the book, its genesis and all the people who'd helped me along the way.
To my genuine surprise I discovered that The Copper Road was hatched as far back as the autumn of 2014. Where have the years gone? This was long before I published Whirligig, which at that time was complete but unedited. I'd taken a trip to Georgia, Tennessee and Kentucky that was entirely designed to inspire a plot for the second book to run alongside the history. My modus operandi is a Virgin flight, a bigger car than necessary and cheap but air-conditioned motels. The first stop - actually a bar and some chicken wings was the real first stop - was a battlefield northwest of Atlanta. My adopted regiment, the 125th Ohio, fought hard at Kennesaw Mountain so my next novel was destined to go there. After that it was more about sliding into the right frame of mind. I took a long rail journey into the Appalachians to cross a famous trestle bridge – the Hiwassee Loop - and visit a copper mining town. I passed through the Cumberland Gap, famed for Daniel Boone and a period long before the civil war. I spent a whole day in small town Perryville in Kentucky letting my mind wander in search of stories. Being alone on these trips can be hard, but it allows thoughts to percolate, to bubble up.
After that I imprisoned myself in a monster hotel - empty as it was out of season - near the beautiful Cumberland Falls. There was nothing to do except visit the waterfall, avoid the bears and work out a plot, while below my window the leaves went about their business of turning any shade of yellow, orange or red. It was moderately painful, but it worked. I had enough to begin at least. I'd also hatched a short story from the rail-trip which became my first published story, His Last Day. Battle Town, born while strolling around Perryville, won the Exeter Story Prize. So some nice fringe benefits as well as a new plot for a novel. I was able to relax and hang out with Jeff Singer who I met at the State University of New York when we were the other side of twenty. He'd flown down to Nashville to meet me. More chicken wings.
What really came back to me speaking with my writing colleagues was that shaping a novel is at once a lonely and a group endeavour.  So many people help along the way. There were park rangers, museum directors, walking guides on those trips all incredibly generous with their time delighted to help a shabby looking Englishman learn more about American history. It contrasts with the distressed America I watch on the TV screens. I find that hard to reconcile. Perhaps I shouldn't try. I guess generosity doesn't make for a news story. These people had a deep passion for history, unattached to any agenda other than to combine their intellect and their imagination, as I struggle to do, to simply try and understand and convey how it must have been.
I want to get back there, back to America, to hospitable people, and to a past that sometimes I think I might understand better than I do the present.